超過50%的美國成年人已經接受了COVID-19疫苗,並且有數百萬種此類疫苗正在常規分發。已經研究了在美國分發的所有COVID-19疫苗在預防COVID-19及其變體方面非常有效。
超過50%的美國成年人已經接受了COVID-19疫苗,並且有數百萬種此類疫苗正在常規分發。已經研究了在美國分發的所有COVID-19疫苗在預防COVID-19及其變體方面非常有效。
接種疫苗可以保護自己和周圍的人。
為了您的家人,您的親人,等待我們所有人的新常態,
請考慮盡快為您提供COVID-19疫苗。
疫苗是對抗COVID-19的重要新工具。已對所有提供的所有COVID-19疫苗進行了仔細的安全性評估,以及它們在預防COVID-19疾病以及從一個人傳到另一個人中的有效性。患病的風險很小,以至於您不會去醫院也不會死。在我們大多數人都接種了疫苗之前,無論是否已接種疫苗,都必須戴好口罩以防止傳播。接種疫苗將改變您的生活。
有關疫苗接種及其安全性和有效性的更多信息,請訪問CDC 。
Choosing safer outdoor activities
Chasing safer indoor activities
Chasing safer indoor activities
Choosing safer outdoor activities
Register your child for their COVID-19 vaccinations!
Dispelling myths regarding the COVID-19 vaccine
Register your child for their COVID-19 vaccinations!
Vaccine Inquiries
Vaccination of Children
---
Adolescents as young as 16-17 years are included among individuals eligible to receive the Pfizer vaccine. Children under the age of 16 years are not authorized to receive the Pfizer COVID-19 vaccine at this time. Children under the age of 18 years are not authorized to receive the Moderna COVID-19 vaccine at this time. Children under the age of 18 are not authorized to receive the Johnson & Johnson vaccine.
---
Vaccine Administration
---
Pfizer and Moderna COVID-19 vaccine series consist of 2 doses administered. Johnson & Johnson consists of 1 dose.
Pfizer-BioNTech: 3 weeks (21 days) apart
Moderna: 1 month (28 days) apart.
Johnson & Johnson: no interval
The second dose should be administered as close to the recommended interval as possible. Persons should not be scheduled to receive the second dose earlier than recommended. If the recommended interval can not be adhered to, the second dose of Pfizer may be administered up to 6 weeks after the first dose.
---
Vaccine Coadministration
---
mRNA COVID-19 vaccines are not interchangeable with each other or other COVID-19 vaccine products. In exceptional situations where the first-dose vaccine product cannot be determined or is no longer available, any available mRNA COVID-19 vaccine may be administered at a minimum interval of 28 days between doses, except Johnson & Johnson's which requires 1 dose. Given the lack of data on the safety and efficacy of mRNA COVID-19 vaccines administered with other vaccines, the vaccine series should routinely be administered alone, with a minimum interval of 14 days before or after administration with any other vaccine. No additional doses beyond the two-dose primary series are recommended at this time.
---
Vaccinations with prior COVID-19 Exposure and/or Infection
---
COVID-19 vaccines can be safely be given to persons with evidence of a prior SARS-CoV-2 infection. Vaccination should be offered to persons regardless of history of prior symptomatic or asymptomatic infection. Vaccination of persons with known current infection should be deferred until the person has recovered from acute illness and criteria have been met for them to discontinue isolation. For persons receiving antibody therapries not specifc to COVID-19 treatment, administration of mRNA COVID-19 vaccines is unlikely to impair development of a protective antibody response. Persons who have had a known COVID-19 exposure should not seek vaccination until their quarantine period has ended.
---
Vaccination with underlying conditions
---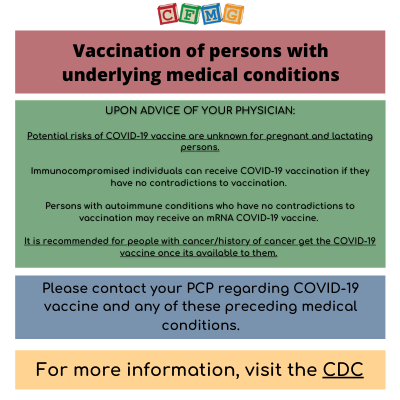 Immunocompromised individuals can receive COVID-19 vaccination if they have no contradictions to vaccination. They need to continue following all current guidance to protect against COVID-19. Persons with autoimmune conditions who have no contradictions to vaccination may receive an mRNA COVID-19 vaccine. It is recommended that most people with cancer or history of cancer get the COVID-19 vaccine once its available to them. Re-vaccination is not recommended after immune competence is regained in persons who received COVID-19 vaccines during chemotherapy. The potential risks of mRNA vaccines to the pregnant person and the fetus are unknown because these vaccines have not been studied in pregnant people. If pregnant people are part of a group that is recommended to receive a COVID-19 vaccine, they may choose to be vaccinated. There are no data on safety of COVID-19 vaccines in lactating people or effect of vaccines on the breastfed infant or milk production/excretion.
---
Click here to view the information in your language!
---
---
---